Read more about Bopup IM software, it's development process, and ideas that could be found useful
Tuesday, January 2, 2018
We are proud to annouce a launch of shared instance of Bopup Communication Server running on
Bopup.me
webserver. The main idea of the new IM server is a rapid introduction to our Bopup Messenger and Bopup Observer clients without a need to install and configure a stand-alone copy of the communication server in a local environment.
The new IM server is running all time 24/7 and it gives an apportunity for our new customers to quickly and instantly test and evaluate instant messaging software, and see to how IM works and looks.
In order to connect and use the public IM server we created few test accounts with the following credentials:
Login:
user
Password:
user
Login:
admin
Password:
admin
Login:
demo
Password:
demo
Using these test accounts will allow to exchange instant messages between different users or even send messages in offline. The IM server allows to connect from Windows desktop clients and from Android devices.
It is easy to start using this shared insance of the commication server. Just type
bopup.me
address in the messaging client and enter credentials of one from the test accounts above.
Visit Bopup.me website for more information
Thursday, October 5, 2017
New version 6.9 of Bopup Messenger is available for download. This version adds new great feature that is going to be introduced in the next release of the IM server product, Bopup Communication Server. The new function will allow to rebrand the messenger title anywhere and place custom brand name instead of Bopup name.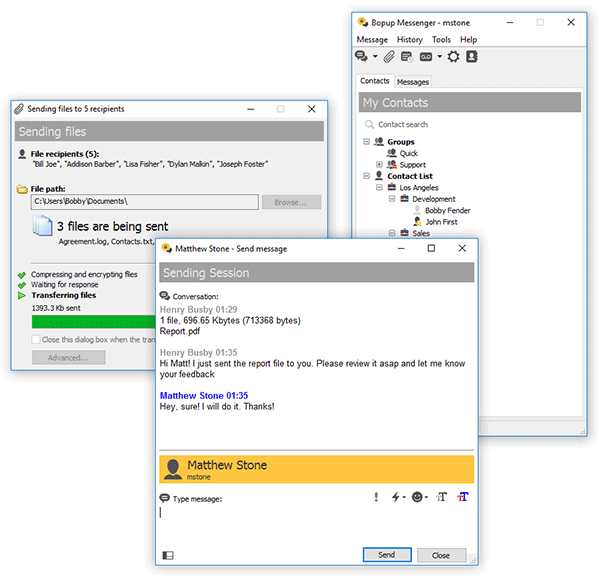 The version 6.9 also comes with some minor bugfixes and improvements regarding AM/PM time format on displaing messages and file transfers in 12-hour clock.
Another improvement is that the application now ignores space symbols in IM server and account names entered during connection. That could cause annoying issues.
Download Bopup Messenger version 6.9 — Enterprise IM client for office with strong encryption of messages and file transfers
Tuesday, June 6, 2017
Now this blog is now available on
blog.bopup.com
address. It has been recently moved from
bopup.me
website where the blog was running for the past 8 years. We believe that the moving is the right decision that allowed us to free the bopup.me domain name. For what purpose? We will announce in the nearest future. Stay connected!