Read more about Bopup IM software, it's development process, and ideas that could be found useful
Friday, October 13, 2017
We release major updates Bopup Communication Server, Bopup Messenger and Bopup Observer software. The new versions introduce an enhanced functionality that allows to rebrand instant messengers from the server console and remove Bopup brand from the name of IM clients.
We implemented this according to many requests of our customers and because we also understand an importance of visual integration for the software that is used by employeers day by day. According to this the Bopup brand can be changed to any other brand name such as company/organization name, etc.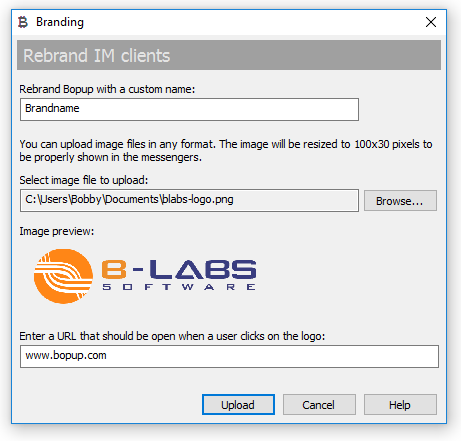 The rebrand function is now available in Management Console of IM server
Additional information can be also found in
IM Client Branding
document in the Online Help section that is also available in
Russian language
.
The rebrand function depends on a software license and it is available for free only to new customers during their 45-day evaluation period. Existing customers should pay additional cost depending on a total amount of client messengers they own to obtain the access to this function.
Download Bopup Communication Server 5.2, Bopup Messenger 6.9 and Bopup Observer 5.8 — The IM suite for secure and efficient real-time messaging over office LAN and Internet
Tuesday, October 3, 2017
We updated our application for Android platform and released it's version 1.1.0.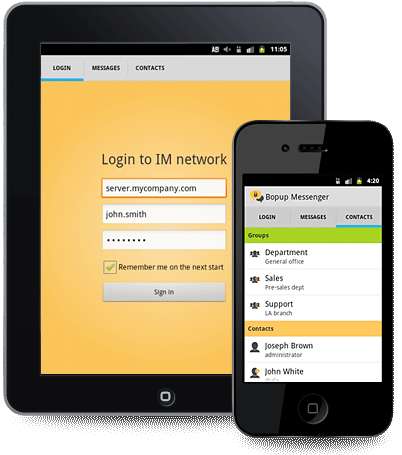 It has a huge of rewritten code and fixes many issues. The most important fix relates to lost of connection to IM server within few mins after the application went to background on Android device. Another fix is about playing sound notification on receipt of a new message. Version 1.1.0 also contains many other fixes and improvements. This is a recommended update for the application.
Download Bopup Messenger for Android — Secure messaging app for business and office communications
Sunday, March 26, 2017
Our IM server application has been updated and it's version 5.1.0 has been released. This recent update of Bopup Communication Server comes with many new additions and changes, most of useful and important are described below.
What's new in Bopup Communication Server 5.1.0:
Added localization to Russian language
This release of the communication server added Russian translation including interface of the Setup Wizard, Desktop and Program menu shortcuts and the interface of Management Console. The localization also applied the IM Client Configuration Tool. This is the most useful and important update for our Russian customers and users.
Showing data from Messaging History is speed up
Management Console improved the speed of result list update showing data in Message History views. Prior versions could take a lot of time to refresh that lists if a huge number of messages and transfer have been selected. Now it should work faster and show up to 65,535 records instead of previous 10,000.
Management Console checks and registers IM service module if it is missing
Another annoying and common issue that our customers might face with is a sudden missing of Bopup Communication Server service from Services list. This could appear during Windows update or during a upgrade of the communication server software to a new version. Now the Management Console checks that the service exists in the system and registers it if otherwise.
Saving message logs to text files
The new version activates the option to save shown instant messages and file transfers in the Message History to a text file even no data is currently selected. In this case all shown data will be saved into a file. Otherwise only selected messages and transfers will be saved.
Fixed issues with upgrade previous versions
We noticed that sometimes new version 5.x of the IM server could not update an existing version 4.x correctly and interface of the Management Console started showing bugs like some resources missing. That could appear of the communication server was initially installed to a directory that differs from default location at "\Program Files\Bopup Communication Server\" (or "\Program Files (x86)\Bopup Communication Server\" on 64-bit systems) so some newly added resources of version 5.x still copied to default location. The version 5.1.0 fixed this.