Today we released new version of Bopup Communication Server, it is version 5.5.0 Among a huge number of improvements and minor fixes this release added support for
Postgres Pro
database servers that can be now used instead of
Microsoft SQL Server
family to host the program database.
Now the setup contains a new dialog that offers to choose between Microsoft SQL Server and Postgres Pro server families .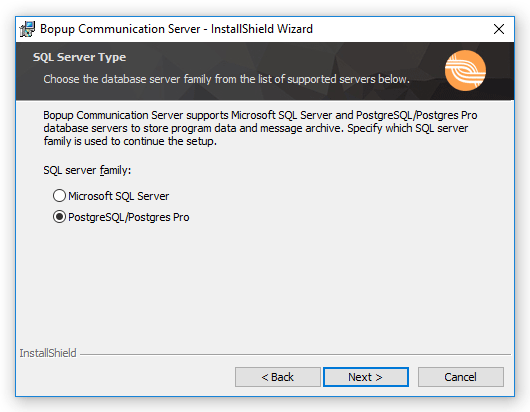 Choosing Postgres Pro database server during installation process
The IM server supports all line of
Postgres Pro
servers including versions 9.x, 10.x and 11.x We added support for this type of the SQL server according to law regulations in Russian Federation which restrict using foreign commercial software for govemenment and non-profit organizations in Russia.
In the next few days we will prepare and publish a new article on our website that describes steps on how to download and install
Postgres Pro
server software and then setup Bopup Communication Server on it.
Download Bopup Communication Server version 5.5.0 — Enteprise instant messaging solution for commercial, healthcare and educational networks