New version 5.3.2 of Bopup Communication Server has been release and it is now available for download at
https://www.bopup.com/downloads/
As always changes are available in the Update Center at
https://updates.bopup.com/server/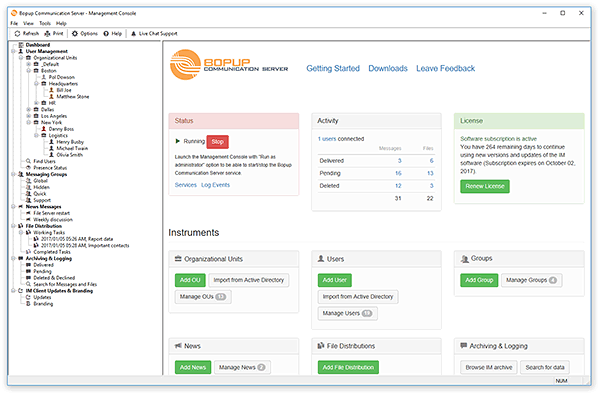 Management Console of the communication server application
What's new:
Fixed issue with sending group and messages to IP ranges
Since version 5.3.0 the server supports multiple ranges of IP addresses through which users can be dynamically assigned. We recommend to all users that use versions 5.3.0 and 5.3.1 to update the server software to avoid troubles with delivering instant messages using IP ranges.
Interface improvements in Management Console app
The server console also added a huge number of improvements and fixes. It's News list now displays ranges of IP addresses that assigned groups have. News message profile pages also show assigned groups if they have only IP ranges. For newly added users that are not yet assigned to groups/news/file tasks the account profile screen displays Users assignment pane with buttons to easily manage assigned groups, News and File Distributions tasks.
Download Bopup Communication Server version 5.3.2 — In-house chat server for companies and clinics