Bopup Communication Server product has been update to version 5.10.0 This is a major release of the IM server that comes with great improvements, changes and bugfixes.
First of all we improved SQL database structure by removing unnecessary and adding new indexes to tables that speed up an overall performance. There are also a lot of changes and improvements in the IM service module that operates better and faster on a high number of concurrent users.
Management Console of the IM server adds a faster load of message log. We improved the lists and now data is shown rapidly even thousands of records are loaded.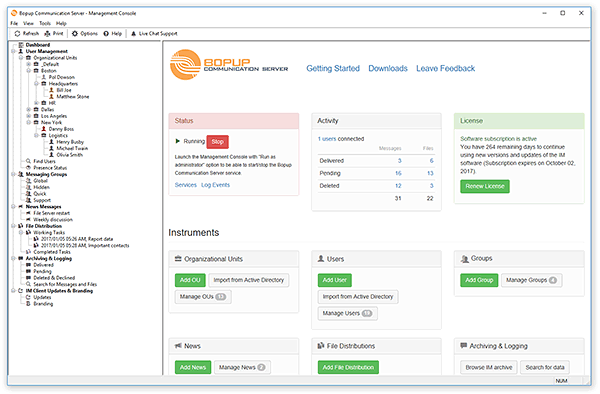 Another improvement is related to displaying charts on the Welcome and other profile pages. We improved SQL queries that select data so now the charts do not delay loading pages.
A new version 7.2.16 of Bopup Messenger is also available. This is a critical release of the instant messenger that resolve the issue with message popup received from non-contacts user. We strongly recommend to update the messenger to the latest version.
Download Bopup Communication Server version 5.10.0 and Bopup Messenger version 7.2.16 — Office IM Suite for encrypted communication between employees