We updated our instant messenger application for Android platform, it is Bopup Messenger version 1.10.0 This version added few important changes and enhancements that made the application more stable and useful.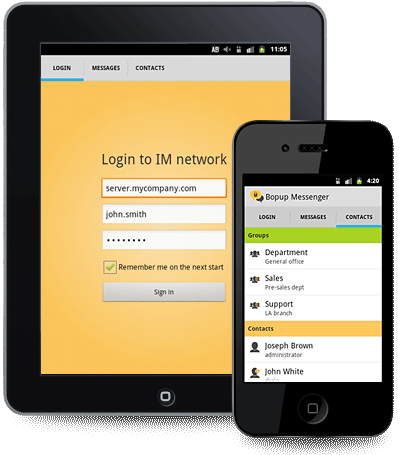 Connection with IM server is kept even the device is in a sleep mode
This is much important addition that makes users to be online and accessible all time once the messenger started on their device.
The messenger wakes up the device on a new message
If device in a sleep mode then the messenger wakes it up to show notification on a new message on screen for a short time.
Few interface improvements that include new divider line in Contact List and status text on sign in
There is a minor change in Contact List interface that improved a divider line with a light gray color between contacts. It has margins on left and right edges of the screen. The app also fixes displaying status text while user signs in.
Fixed app error when service on the IM server stops
Bopup Messenger fixes error that occurs if IM service is stopped on the messaging server
Download Bopup Messenger for Android version 1.10.0 — Light, secure and fast mobile messenger for companies