New version 5.11.0 of Bopup Communication Server is available for download. This version comes with great improvements in SQL queries that improves overall speed of the communication and fixes many related issues. Among internal improvements the server added many interface changes and enhancements.

Connectivity and overall speed improvements
The recent release of the IM server fixes issues that could appear on a greater amount of concurrent connections. Previous versions of the server could add many warnings and SQL exceptions to Event Log viewer, and users couldn't connect to the server at the same time. Another fixes belongs to connection limit error that could appear on messenger startup. So this version is an important update.
Fixed issue with logging file transfers on disabled Message History
The new version fixes saving file transfers into history log when it is turned off. This problem occured only for file exchange. Now the server console shows a dialog when Message History option is switching off that lets keep or delete existing archive on the server.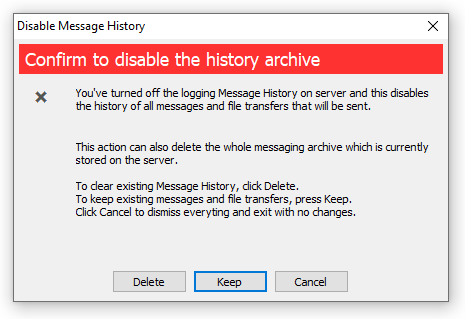 Showing computer/DNS name for user accounts in addition to IP address
Now the server resolves and adds host name for connected users to show it everywhere in Management Console within IP address. It is a useful option if the server runs on a local network and lets administrator see user's workstation names. Host name is shown in the Presence Status, on user profile page and in archiving views that shows instant messages and file transfer information.
Download Bopup Communication Server version 5.11.0 — Fast, compact and secure self-hosted solution for instant messaging and file transfer