Pricing for IM client rebranding feature is now available and the service is offered for purchase. The rebranding function allows to remove Bopup brand from IM client applications and replace it within a custom brand name. This lets get the messengers branded to customer's company name, for example to name the software as
Clinic Messenger
or
My Office Messenger
.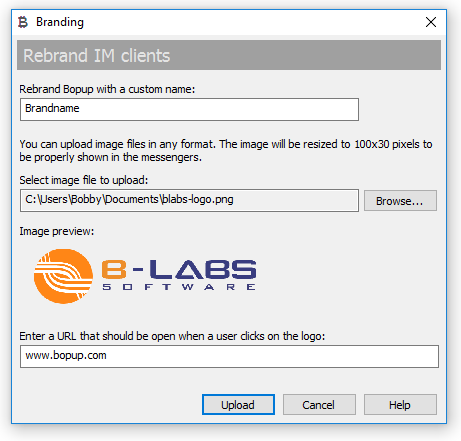 Branding client messengers from the server console
Pricing for the Rebrand functionality is based on annual subscription and it depends on a number of connections supported by IM server license so it is an extra fee for $10 US per each messenger connection. For example, for 10 connections the rebrand function costs additional $100 per year (10 x $10), and for 25 messengers the subscription costs $250, and etc.
The Rebrand function is not mandatory and it is offered as extra service for additional cost. Customers even they did not purchase the Rebrand service are still able to use standard built-in functionality to place and display company logo in the messenger clients with a custom URL.
We also added pricing for the Rebrand service to our calculation form on the website at https://www.bopup.com/order/#calculator where the "Include Rebrand feature" checkbox is now available.
Know more about IM client branding function in Bopup Communication Server