We discovered some critical bug with installation of remote Management Console. The issue occurs after a upgrade of the remote console installation to a new version. Once the update is installed it registers and runs a service module. That file named bcssrvc.exe is copied too by a mistake because the remote console should not have any running services. As a result customer is having two or multiple instances of the service running on different computers (where the remote console is installed) and all of them connect and use same SQL database. When a computer with such remote console is rebooted it's local IM service closes all opened sessions for users currently connected to working instance of the IM server. This causes showing zero users connected in another consoles at the same time within other critial issues that stops normal operation of the messaging server.
We fixed this issue and all future version of Bopup Communication Server will not install and run the service when only remote console is installed. For existing customers we advise to check for Bopup Communication Server service in the Services panel on all computers with remote Management Consoles, stop it and change the Startup type to Manual or Disabled. Then restart main service module running on primary communication server instance.
The remote management is a built-in feature of the IM server that allows to install only console application to connect and manage the messaging server. In order to use this function a primary instance of the communication server must permit it's remote control using secure password. To install the remote console a user can use same setup package file by choosing "Install the Management Console only" option during installation process.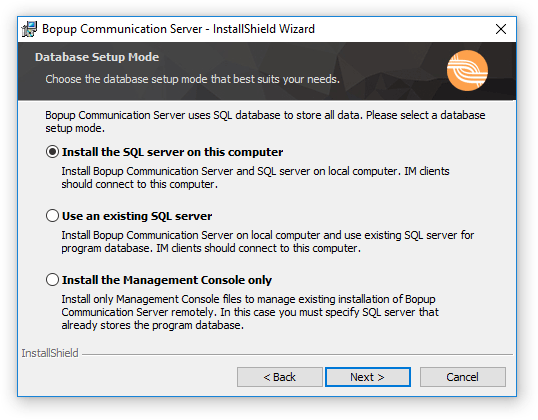 Choosing installation mode of the IM server
Download Bopup Communication Server version 5.4.2 — IM server for internal and public use with built-in message encryption and powerful management options