New version 5.2.3 of Bopup Communication Server is available for download in the
Download Center
. This release comes with a useful impevement of Management Console that now supports searching and displaying data from message archive in Conversation mode. This means that it is possible now to select two or more user recipients and show all messages that were sent only between them excluding all other messages and file transfers.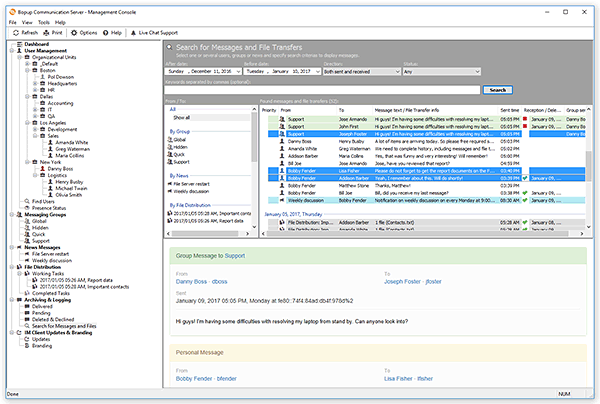 Search panel in the Manegement Console of Bopup Communication Server
In order to access the new function launch the server console and switch to
Search for messages and file transfers
view. Select recipients from the
From / To
list and use "
Conversation mode
" in the
Direction
drop-down list
https://www.bopup.com/onlinehelp/server/guide/archiving_logging/search_messages_file_transfers.html
Then click
Search
button to find and display only messages between the selected users.
Download Bopup Communication Server version 5.2.3 — A stand-alone corporate messaging server with data archiving and encryption