We are proud to inform that new version 6.0.0 of Bopup Observer client has been released. This is a major update of the messenger software that contains a huge number of improvements, changes and additions.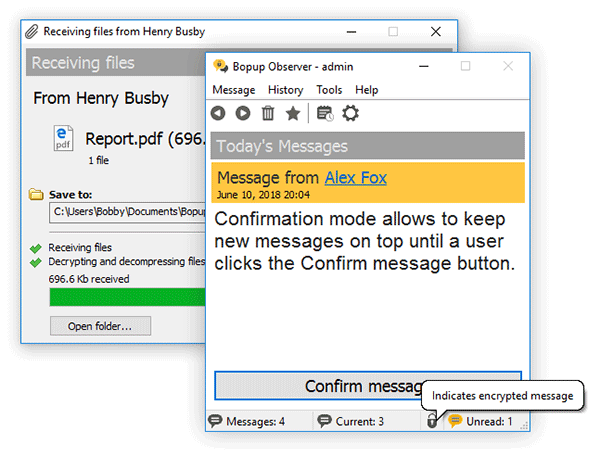 Bopup Observer is a LAN messenger for one-way urgent messaging and alerting purposes
What's new:
New application interface with changed icons, wizards and toolbars
This release of Bopup Observer now looks similar to recent versions of Bopup Messenger client. It has a updated user interface with modern-look icons and images on toolbars. New graphic is performed in monochrome colors.
Improved exporting messages to a text file
Now the messenger exports and saves messages and file transfers from the history dialog in same order as the data appears in the list. We noticed that previous versions of the app exported data in reverse order.
Fixed error on clicking long URLs in the message text
There was an error in the messenger software when a user clicks on long length links shown in incoming messages. The new release fixes such issues.
Fixed issue with autologon on program startup or after disconnect from IM server
Bopup Observer fixed another annoying issue with automatic logon to the communication server on startup or when an established connection with the server has been interrupted. Now the messenger tries to connect to the messaging server again and again using previously entered credentials within the next 1-2 mins as it should.
Many other improvements and changes
Many unused menu items were removed from popup menu shown in System tray area and there is no confirmation message on program exit. New version of the observer operates smoother and better.
Download Bopup Observer version 6.0.0 — LAN pager software with modern look and built-in IM ecnryption