We released new messenger and observer updates, and Bopup Messenger version 7.0.6 and Bopup Observer version 6.0.1 are available for download at
https://www.bopup.com/downloads/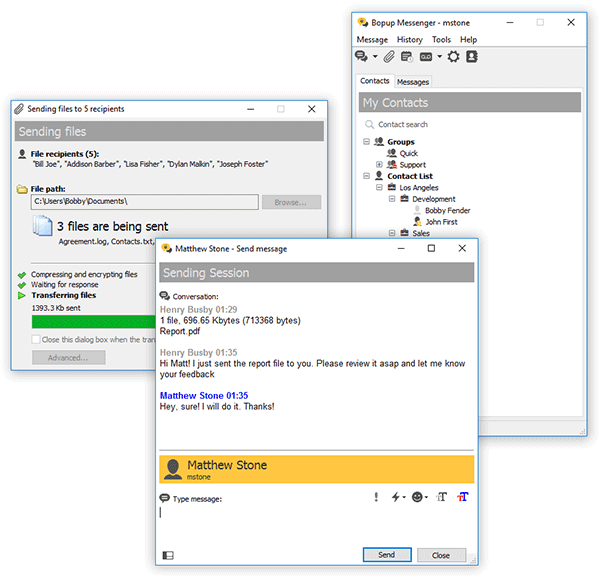 New releases includes bugfixes and interface immprovements. Among those changes there are the following additions:
Added to support to prevent changing user password if appropriate option is set on IM server
This new function is now supported both the messenger and observer software. It requires a new version 5.2.9 of Bopup Communication Server that is going to be released in the next few days which will have a new option that prevents users from changing password by themselves from the IM clients.
Improved receipt of messages, fixed duplicating and missing offline IM
This important change fixes possible issues with receiving and displaying instant messages in the IM clients when the messenger gets few messages at the same time like offline messages from the communication server on startup.
Fixed auto-response messages in the Away mode
This fix is related to Bopup Messenger client only that could wrongly send a previously used away message in the idle away instead of sending a special idle away message.
Many interface improvements
Both Bopup Messenger and Bopup Observer improve displaying and formatting text of messages. The messenger also fixes scrolling the conversation window and now always shows most recent message at bottom.
Download new updates of Bopup IM clients — Ultra-safe instant messaging software for healthcare, educational organizations and for business use