New update of the instant messaging server is available for download. It's recent release is version 5.6.1 which added some new functionality and fixes minor issues.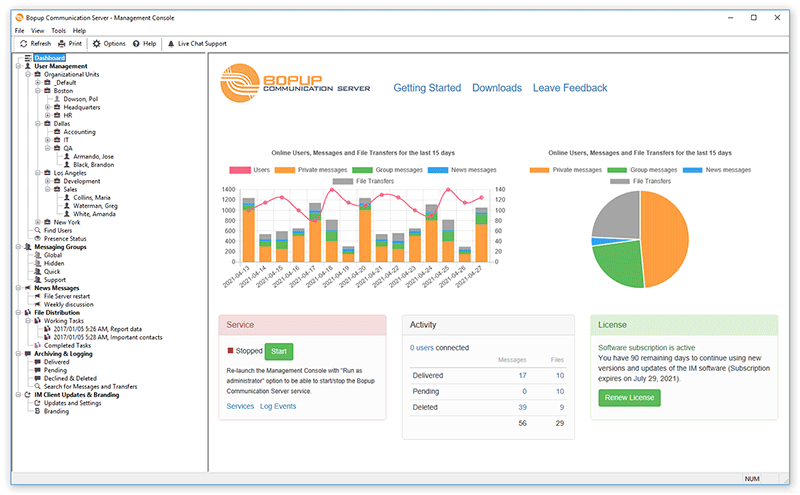 Management Console of the IM server (Dashboard screen)
What's new:
Added function to export message archive to CSV files
In addition to existing function that saves message history selected in Management Console to text files we extended the export functionality and added support to export archive to CSV files. CSV format is a text format in which the data is separated with semicolons. Such files can be opened in Microsoft Excel and similar office apps where the data is shown in different columns.
Added interface improvements in Management Console running in remote mode
This change belongs to the server console when it is running in administrator mode to manage a remote instance of Bopup Communication Server. Since the service module is running remotely in such cases then the console does not show
Services
and
Event Log
links on Dashboard screen. Also it changed a status of the service from
Unknown
to
Running
(since the remote console was able to connect to IM server) without options to Start/Stop service.
Fixed error in remote Management Console if a wrong password is entered
There is an important fix in the server console that improves functionality of Management Console installed in administation mode. The new version fixes an error when an incorrect password is entered in the console on startup in order to connect to the server instance.
There are another fixes and mprovements that the new version 5.6.1 has.
Download Bopup Communication Server version 5.6.1 — Enterprise text messaging with Active Directory (domain) and mobile apps support